iPhone, Android, and BlackBerry Apps for Real Estate Brokers and MLS's
Many companies talk about their "apps" when they are really providing a mobile-optimized website. Make sure you know the difference!
Our native smartphone applications are premier search tools for both real estate professionals and prospective home buyers, and:
Offer a premium user-experience with best-in-class mapping, augmented reality, and more
Are downloaded from the Apple App Store, Google Play Market, or Blackberry App World
Encourage repeat usage – tell clients, prospects, and agents, "We have an app for that!"
Promote organic sharing between home buyers
Allow your brand to be discovered with key search terms in the app stores for your local market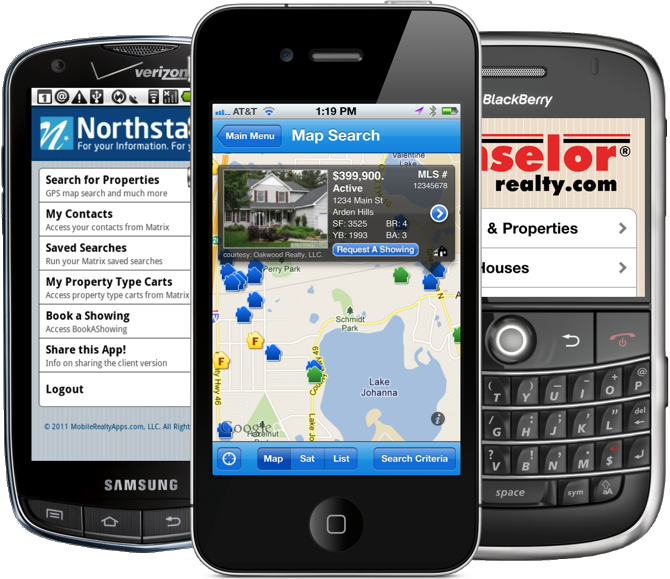 We create white-labeled branded apps for agents, brokers, and MLSs. Our branded apps can either be designed for professional access or as a search tool for consumers.
Our professional access apps are designed to help agents efficiently and effectively do their job in the field, allowing agents to book showings, edit listings, and have full access to their MLS system, including viewing all fields for all listings and statuses and accessing their existing MLS saved searches and contacts.
Our consumer facing apps, in conjunction with our mobile marketing suite, are all about promoting your brand to prospective home buyers, with all leads coming back to you. When adopted by a broker, the apps make for a great tool for attracting and retaining the best agents.